Montana 2019 Champion Selected as 2020 CMN National Champion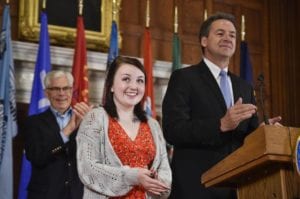 Shodair Children's Hospital is excited to announce that Bella Nyman, Montana's 2019 Children's Miracle Network Champion, has been selected to be one of CMN's 2020 National Champions! On Tuesday, September 24, Montana Governor Steve Bullock officially announced Bella's new title to the public with an official press conference.
"Bella has shown incredible bravery and perseverance to move forward and reach her full potential, and she will make Montana proud," Governor Bullock said. "I'm confident Bella's story and role as an ambassador will make a real difference for the kids who rely on children's hospitals and make it possible for many children to have success stories of their own."  
Bella began to struggle with mental health issues at a young age. By the time she was seven years old, doctors diagnosed her with bipolar disorder, separation anxiety, clinical anxiety, and obsessive-compulsive disorder. Her mental struggles made it difficult to attend school and began to impact her day-to-day life. Bella received treatment during two admissions to Shodair Children's Hospital during 2016 and 2017. During her time at Shodair, Bella learned self-awareness, how do to advocate for herself, and other tools she needs to live a happy and healthy life. Bella is a student at the Project for Alternative Learning in Helena. In addition to support from her parents Jill and Quint Nyman, Bella received treatment from therapists, psychiatrists, nurses, mental health techs, and teachers at Shodair.
Each year, 170 Children's Miracle Network hospitals, including Shodair, identify a champion in their communities to serve as the face for children treated at their hospital. From the pool of 170 children, Bella was selected as one of 10 students to serve as an ambassador sharing their medical journey to advocate for children's hospitals across North America.
Children's Miracle Network hospitals offer treatment to millions of sick kids and serve one in 10 children in North America each year. Shodair is the only hospital in the Children's Miracle Network that is a behavioral health facility.