Montana State University Senior Receives 2020 Miracle Network Dance Marathon Distinguished Leadership Award
From the thousands of graduating seniors who have participated in Miracle Network Dance Marathon at the approximately 300 colleges and universities across the U.S. and Canada, 25 students were selected to receive the 2020 Miracle Network Dance Marathon Distinguished Leadership Award for making an exceptional impact within their Dance Marathon program, on their individual campus and for their local Children's Miracle Network Hospital. To see all of this year's recipients, click here.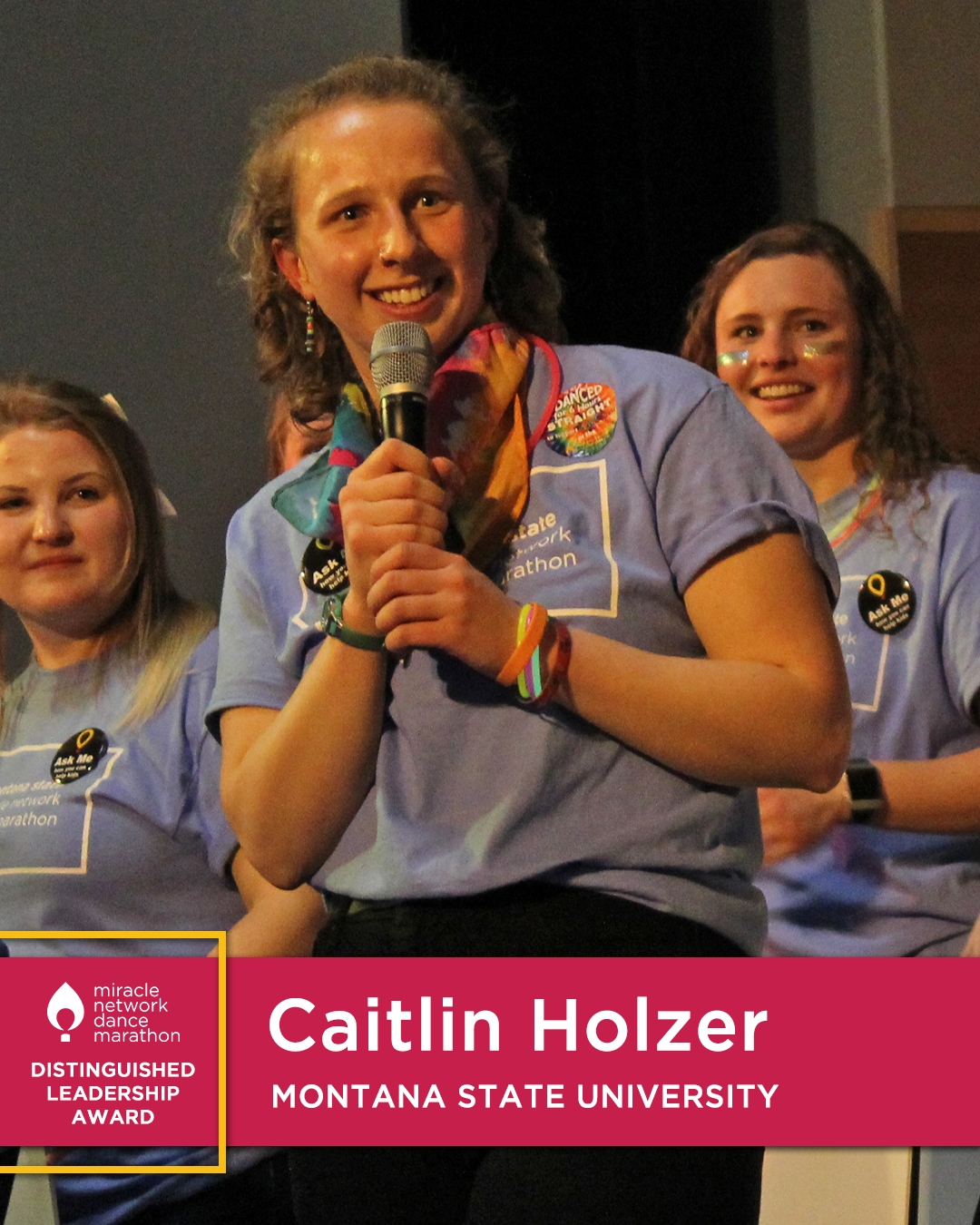 Hometown: Naperville, Illinois
Degree(s): B.S. in Psychological Science, Honors Degree, Minor in Hispanic Studies
Dance Marathon Involvement: Shodair Children's Hospital is the only psychiatric hospital within the Children's Miracle Network, and our marathon is one of a kind. I am the co-founder of Montanathon and began this incredible journey in the summer of 2018, and our program has already raised over $62,000 in our first two years. Last year, I was more of a co-president, but for Montanathon 2020, our leadership team structure shifted, and I became the president. My role is to direct and mentor team members to navigate the process of building our program from the ground-up with enthusiasm and passion. I am also essentially a utility and have ultimately taken on every committee chair's role and responsibilities at some point or another to help out where needed and make the program a success. In summary, I have been in everyone's shoes at one point or another, but my main role is to use my experience to guide our team to success. Over the two years of Montanathon, I have raised $4,305.82 for Shodair Children's Hospital.
Campus/Community Involvement: 
Volunteer mentor for Big Sky Youth Empowerment. I support youth in positive development workshops to teach positive coping skills, healthy relationships and communication, life skills, and much more. On weekends, we go on outdoor adventures for youth to apply what they learn outside. byep.org, 500+ hours volunteered.
Founding member of Health Equity Circle, Bozeman's only broad-based community organization that gathers leaders from a wide variety of organizations, groups, and stakeholders to make local changes to support equitable healthcare. healthequitycircle.org
Fundraiser and social media ambassador for the Swifty Foundation. I shaved my head to raise over $8,000 for the foundation my friend Michael created when he was 14 and in hospice after a 5 year battle against Medulloblastoma, a deadly brain cancer. I promote their mission through social media once a week.
I work in the Diversity and Inclusion Student Commons at MSU and support individuals from underrepresented backgrounds and identities. I also coordinate Sustained Dialogue, a program that brings students together to have respectful discourse that transforms into collaborative change and action plans. sustaineddialogue.org
Awards/Recognition: Septemviri Award (2019); George M. Dennison Civil Engagement Scholarship (2020); Jaynee Drange Groseth Legacy Scholarship (2018)
Post-Graduation Plans: After graduation, I plan on staying involved with the Bozeman community while preparing for graduate school and a career in clinical psychology. I will resume volunteering with Big Sky Youth Empowerment, study for the GRE, and work to save money in order to travel and learn the Spanish language even more. I have aspirations to work at Shodair Hospital in the coming years as a mental health technician and spend time directly with patients during their healing journeys.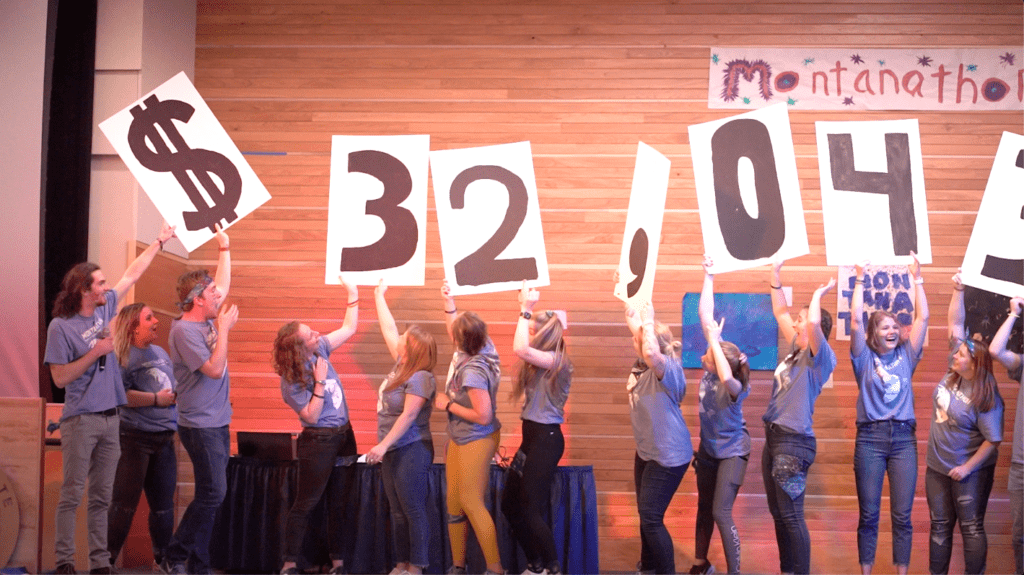 Why do you, personally, participate in Dance Marathon?
I started Montanathon because of its power and potential to bring people together in such a positive, authentic, and reverent way. There has never been a patient-focused event as powerful as a dance marathon to support a psychiatric hospital. Mental illness needs to be talked about, and I want to help start that conversation by celebrating the strengths of patients rather than continue focusing on the inherently dark aspects of fighting mental illness. I have struggled with mental illness my entire life and have seen the power of social support in my healing journey. On the other hand, I have also witnessed and experienced the power of negative stigma in my journey. Dance marathons generate a lot of noise, and I see this as an opportunity to fight stigma by supporting patients and remind them that they are seen, cared about, and fought for. Montanathon also fuels a larger conversation about mental illness in Montana, a state that consistently has the highest suicide rates. The act of celebrating patients who are normally ignored or shamed for their invisible illnesses completely flips how we treat those who are struggling silently and the messages that are sent.
How has Dance Marathon impacted you as a student leader? What specific skills have you developed during your involvement?
I have always been incredibly passionate about making positive change and helping others, but starting Montanathon was the first time I felt like I was authentically growing and becoming the fearless leader I am today. I was inhibiting myself because of how timid and overly-careful I was for so long. Montanathon has helped me develop my newfound ambition, confidence, and steadfast leadership. There are countless ways and avenues to grow a dance marathon program, and building ours from scratch, especially for the only psychiatric CMN hospital, has pushed me to dream big and do great things. In the past, I was constantly seeking approval, permission, and reassurance when doing things like this, but now I am less concerned about my self-evaluation and others' thoughts; I lead with our cause at the forefront of everything. I am so much more ambitious now, and I have become a leader who feels comfortable in her own skin and allows others to feel the same while enduring the challenges that come with being a student and leader.
What personal accomplishment/contribution are you most proud of from your involvement in Dance Marathon?
One of my proudest accomplishments of Montanathon, amongst countless others, is the fact that I was able to successfully build a team from the ground-up with strangers and turn our team into a family. There's no greater feeling than to watch timid underclassmen bloom into incredible leaders. I could speak for hours about the genuine successes of our program, but having a solid team is what means the most to me and is the greatest investment one can make. I am a firm believer in the power of connection, empowerment, and the domino effect. Every person on our team has grown tremendously, and I know that they will carry not only our event forward, but the movement we have generated to change the landscape of mental health in Montana and beyond as well as change patients' lives and perspective of their journeys in the hospital.
Why should students get involved with Miracle Network Dance Marathon on their campus?
Students should get involved with Montanathon because our event brings folks together and connects strangers in such powerful ways over a common desire to uplift others. Community is so important when it comes to the college experience, but it also has profound impacts on the patients, families, and doctors we are supporting. Social support changes lives, and we are actively rewriting the narrative about mental illness hospitalizations. Montanathon is fulfilling, and I think one of its greatest strengths is how it encourages students to find their voice and ability to make a change. I think people often shy away from helping others because some issues are intimidating and can feel too big for one person to fix, but Montanathon teaches people that small actions add up in unimaginable ways and that their voices count more than they think. I want everyone to realize their ability to make a change in ways that are meaningful to them. One in five Americans experience mental illness at some point in their lives, so it is true that our dancers have been impacted by mental illness too. It is my hope that dancers, through Montanathon, can also find meaning in their own journeys with mental illness and carry that loving energy forward.
Why should people donate to their local Children's Miracle Network Hospitals?
Donating to your local Children's Miracle Network Hospital is a direct investment into your community's future generations and sends invaluable messages of hope and love. Children deserve to be spending their precious days at school, with friends, playing outside, and getting involved in their communities and not stuck in hospital beds or doctors' offices. Donating to your local hospital helps build a brighter future for patients and their communities by helping families receive the care they need and deserve.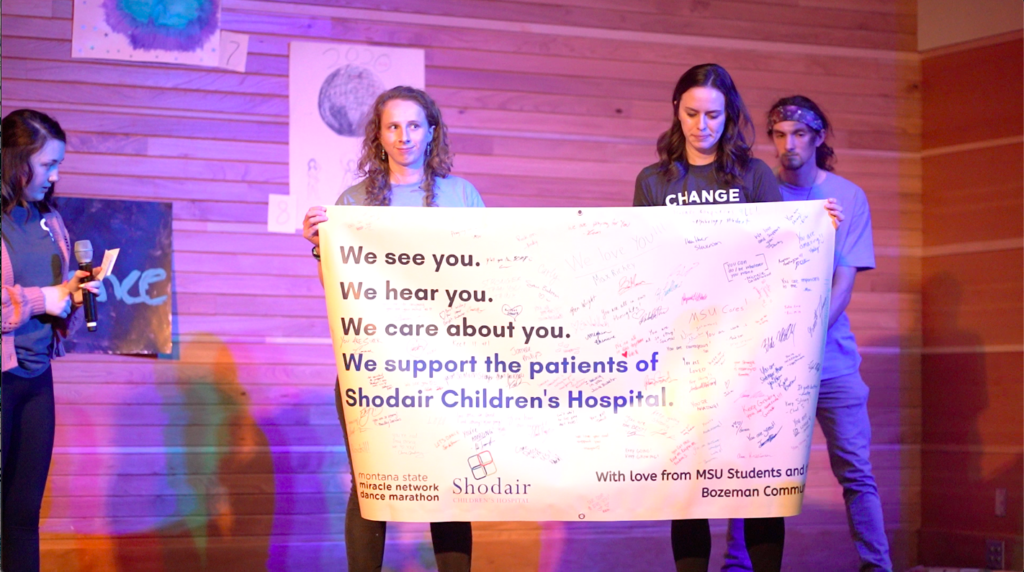 ---
Miracle Network Dance Marathon is an international movement, involving over 400 colleges, universities and K-12 schools across North America that fundraise for their local Children's Miracle Network Hospitals. These students work tirelessly throughout the year to raise funds one dollar at a time by making the ask to family and friends. Their hard work culminates in a 6-40 hour celebration on their campus, where participants have the opportunity to rally together as a community for their local Children's Miracle Network Hospital. Students involved in Dance Marathon gain valuable skills in fundraising, peer management, delegation and philanthropy. Miracle Network Dance Marathon programs have collectively raised more than $300 million since 1991.
Learn more about Miracle Network Dance Marathon: